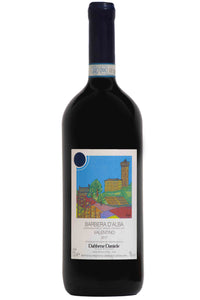 RED WINE
-VARIETAL: BARBERA D' ALBA D.O.C. (100% Barbera grape)
-PRODUCTION AREA: Santa Vittoria d' Alba , Cuneo (Piedmont)
-STRAIN: marly-sandstone with a prevalence of sandstone and a good content of limestone, clay and sand; poor in organic matter but rich in mineral salts.
-ALTITUDE: about 300 m above sea level.
-CLIMATE: temperate cold, great temperature range between seasons due to the influence of the Alps and in particular of Monviso.
-GROWING SYSTEM: Guyot, with density of vines per hectare 7000-7500.
HARVEST: manual in mid-October in small boxes.
-YIELD PER HECTARE OF GRAPE: 35 Qli / Ha
-WINE-MAKING: traditional fermentation with indigenous yeasts for 10-30 days, spontaneous malolactic in steel tanks.
-MATURATION: 12 months in new French oak barriques.
-REFINING: 6 months in bottle at controlled temperature before release for sale.
TASTING:
-COLOR: impenetrable ruby red.
-PROFUME: very intense nose of red fruit (plum, raspberry, blueberry, blackberry and black cherry), panna cotta, caramel and toasted hazelnuts.
-FLAVORS: high, taut, sinuous and persuasive mouthfeel; acidic, rich, fat, chewy, mentholated and very fresh.
-PARTICULAR: Excellent capacity for aging.
-ALCOHOL: 16% VOL.
-GASTRONOMIC MATCHING: The best matches for the first course are risottos and baked pasta, while for the second course it goes perfectly with roasts and red meat. It is also excellent with cheeses such as Gorgonzola and Raschera, but also with the typical Piedmontese Toma cheese. Among the most famous recipes among first and second courses are to be mentioned the recipes "alla" Barbera such as "Risotto alla Barbera e gorgonzola" and "Il brasatoalla Barbera".
-SERVING TEMPERATURE: 16 - 18 °C